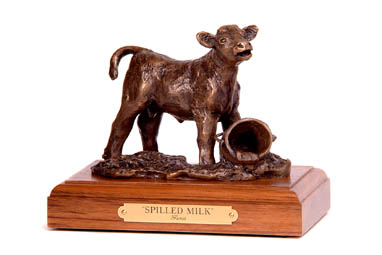 Sculpting bronzes for over 40 years, Gina's works have been collected worldwide. She believes in the ranch & rodeo way of life and has been lucky enough to be able to share it with so many.
Well recognized in rodeo, Gina's bronzes were selected since 1972 for trophies by the Calgary Stampede and have been used for nearly every rodeo event as well as the All-around and the Guy Weadick Memorial trophy. In 2007 Gina was one of two first time inductees into the Calgary Stampede Western Art Show hall of fame.
Gina also did the official bronze for the 1988 Winter Olympic Dignitaries. Her bronzes are in the collections of the Royal Family, The Crown Prince of Jordon, country singer Randy Travis and Prime Minister Brian Mulroney to name only a few.
Gina's bronzes truly depict her ranch & rodeo life. As one writer put it…
"Her hands are strong from a life of ranch work, shaped by years of holding leather reins, raking hay and turning soil. But they are also steady, able to sculpt smooth and sweeping lines in clay and wax models, and to sketch whimsical scenes of the only life she has known."

Freelance Writer – Wendy Dudley